Cement, a fine-grained binder which when mixed with fine aggregate, sand and water transforms into a paste that binds and hardens when submerged in water.
High quality cement is necessary for the production of mortar and concrete to satisfy relevant construction industry specifications.
• Consistency, initial and final setting time (Vicat method)
• Soundness of cement (le-Chatelier method)
• Fineness
• Specific gravity
• Chemical analysis of cement
• Flame photometry
• Loss on Ignition
CONSISTENCY, INITIAL AND FINAL SETTING TIME (VICAT METHOD)
The vicat test set determines the quantity of water required to produce a cement paste of standard consistency and setting time of cements.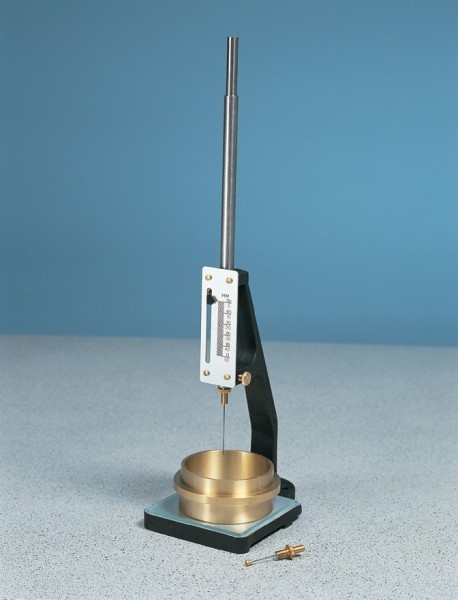 Figure 18: Vicat apparatus
SOUNDNESS OF CEMENT (LE-CHATELIER METHOD)
The le chatelier method is used to determine the expansion of cement
Figure 19: Le – Chatelier mould
FINENESS
The Blaine apparatus is used to determine the fineness of cement
Figure 20: Blaine air permeability apparatus
SPECIFIC GRAVITY
The Le chatelier flask is used for determining the density of cement
Figure 21: Le-Chatelier flask
CHEMICAL ANALYSIS
Chemical analysis plays an important part in the categorization of cement.
FLAME PHOTOMETRY
The flame photometer
is used to determine the constituent parts of cement
Figure 22: Flame photometer
LOSS ON IGNITION
The muffle furnace is used for determining the loss on ignition and insoluble residue of cement
Figure 23: Muffle Furnace